40 Years Alive
Intellectual retrospectives abound - treating punk as an historical, museum exhibit. It isn't. One band with pre-punk routes back to McLaren, has never given up. With 3 original members and sounding exactly the same live as they did in 1977, the punk gang known as 999 are still living by their opening mantra, 'I'm Alive'.
Front man NICK CASH guides PHIL SINGLETON from the early 70s through to the present day.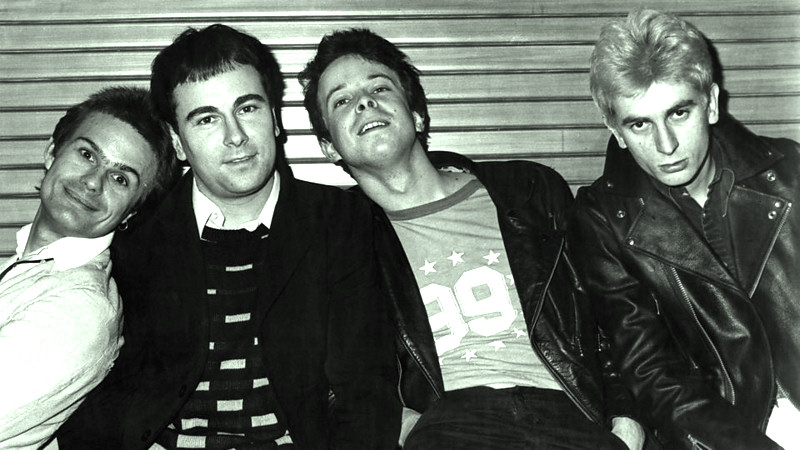 Nick:

"Ian Dury was my tutor when I was at art school in Canterbury. He'd been tutored at the Royal College of Art by Peter Blake, the guy who did the Sgt. Pepper cover, and he was heavily into pop art. Ian used to teach me when I was doing my degree. We liked Gene Vincent and Eddie Cochran and he loved some country & western and jazz, Roland Kirk and so on. We'd get together and play when he used to stay at my student house. Ian and myself formed Kilburn & The High Roads for the college 'end of term' dance. It went down a complete storm because there wasn't anything like it. Pub Rock was just starting in London with bands like Bees Make Honey and Brinsley Schwarz. We started to go up to The Tally Ho and The Kensington and play in those pubs. It took off from there and we ended up touring with The Who on their Quadrophenia Tour.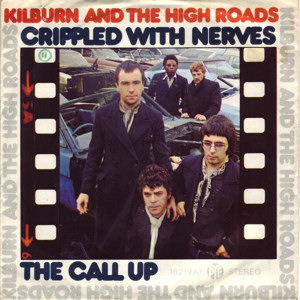 In the meantime we got a record deal with Pye Records and made an album called Handsome. At the last gig Johnny Rotten was there. People would come and see us 'cos they liked the band and the style because it was a bit avant-garde and people wore different clothes. The music was quite rough and you never knew what was going to happen. Like Punk Rock.

(Right: centre stage on 7" German picture sleeve)

Malcolm McLaren used to make the clothes for me when I was in Kilburn & The High-Roads. The Kilburns were the first group outside the New York Dolls to wear Malcolm McLaren's stuff. I remember going down to his shop 'Sex'. He had this fetish mask with zips for the eyes. Malcolm said it would be great if I wore it on stage. I said "Malcolm, I'll have to pass on that, it will be too hot!" In a way I wished I had worn it! It was amazing to be a part of that scene. He was a very good tailor. Ian Dury & I loved the zoot suits the Jamaicans were wearing - wide cut trousers and jackets. Malcolm said he had this block pattern he called his Alan Ladd, after the American actor, which was a very similar design, and lo and behold he made a fantastic suit which I've still got to this day.

He'd then make gear for all the bands, Ian Dury's satin dressing gown which said "Billy Bentley" on the back which he'd wear on stage. The image of Kilburn & The High Roads was a strong image. The Who loved it. Keith Moon liked our drummer David Rohoman who was paralysed from the waste down. Keith used to call out from behind the drum kit and watch him play. David would rock back and forwards, & he was very dextrous with his hands.

The Who asked us to go on the American leg of the Quadrophenia tour in '74, but we couldn't do it because of Visa problems, so Lynyrd Skynyrd got it. They took off on the fly but it killed quite a few of them later so I was glad it wasn't us!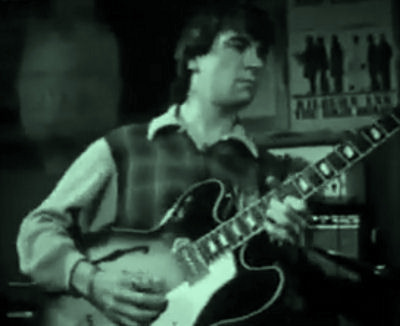 I fell out with Ian and left the band. By that time I was writing with Guy (Days); we'd written 'I'm Alive' and 'Emergency'. Guy is my brother. We never talked about this; we weren't bothered about it. Guy used to come to the recording sessions of Kilburn & The High Roads and helped me do a couple of guitar solos. He was a good player and I thought, "blimey he's playing the lead really good now!"

(Left: Keith Lucas in the Kilburns)

The Kilburns came to a messy end with people jumping up and down wanting money. Wilko Johnson had left Dr Feelgood and their manager Chris Fenwick asked me about taking the guitar playing part, but I didn't want to do it. Pub Rock had had its day and there was this new thing coming along. Guy and me thought it would be much more fun to do that. We sent tapes to record companies but no one was interested. Then the next minute punk rock happened and all the people that didn't want to know before wanted to sign up the very same songs. Goes to show you record companies have cloth ears!

I also changed my name. I was known as Keith Lucas in Kilburn & The High Roads. When punk started I didn't want anybody to come down and see us off the back of the Kilburns. I wanted a completely new start, so I picked the name Nick Cash. Here was something new and it worked. We instantly built up our own following. We were able to go on without holding onto the coat tails of pub rock.

We put an advert in the Melody Maker: "Wanted. Bass player and drummer for punk rock band." We auditioned people at Manos Studios at the bottom of King's Road. We had so many people turn up: Tony James, Chrissie Hynde, Dolphin Taylor, Jon Moss. In the end we picked Jon Watson and Pablo Labritain because they were the best people for the job.

Pablo was the last person to audition. His mate dragged him down. He was wearing a pin stripe suit, black shoes with diamond studs on them. He looked amazing, he looked the part. December 5th '76 was when I called Pablo and said he was in the band. It wasn't till later on Pablo revealed he was the first drummer in The Clash. Pablo didn't really get on with Bernie Rhodes. He was at school with Joe Strummer and was a mate of his. 999 were involved with Bernie at one point but decided not to pursue it any further. There were a lot of people around at the time."



Making their live debut as The Dials at Northampton Cricket Club on 22nd Janaury '77, they played one show at the Nashville Rooms as Gene Carson's Fanatics, followed by gigs as 48 Hours. By May '77 they had settled on 999. Cue the iconic logo.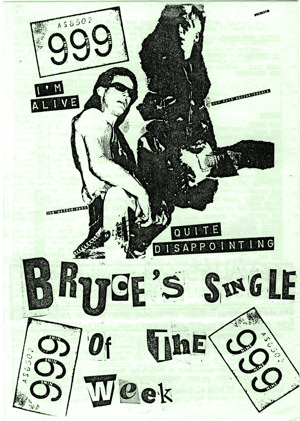 Nick: "It's a fabulous thing that has endured. George Snow designed it; he makes art and films to this day. I went to his flat in Earls Court. We didn't want a name starting with 'The' and thought it would be better to have figures rather than letters. That's how the band name 999 came about. He pulled a ticket out of one of those small raffle ticket books made of cheap paper with serial numbers on the tickets. The ticket had number AS8502 which we left on. George's idea was to put the 'Nine' 'Nine' 'Nine' in the spines of the numbers to avoid confusion, 'cos in some countries they are gonna go "nine, ninety-nine". He also had the idea to leave the thumb print on, so it looks a bit rough. It's a work of art.

He designed the first three covers for us; 'I'm Alive', 'Nasty Nasty' and 'Emergency'. He'd get photographs, screw them up then flatten them out. He used a nail gun to write the names out. On 'Nasty Nasty' he went even further; he ripped the eyes out of the photographs of band members, turned them upside down. With the first album cover and videos we thought up a lot of it ourselves. We worked on it quite hard & it paid off for us.

Our debut single 'I'm Alive' sold out of its first pressing of 10,000 copies on our own label Labritain which was named after Pablo! 'I'm Alive' was all about watching TV and buying stupid products; it was a great song to write with Guy, a great 1st song to do.

(Right: I'm Alive - Single Of The Week)

We had help setting up the label from our managers Dai Davies and Derek Savage. They were doing The Stranglers, bands like that. They had the licences for The Red Cow, The Nashville Rooms, and The Hope & Anchor, so they had the gigs. We had residencies at The Hope & Anchor and the Marquee where we sold out every night and then we went on to do the Lyceum.

We did matinee performances for fans too young to get in with the drinking laws. We did it at Middlesbrough Rock Garden, Eric's Liverpool, loads of places. In the Liverpool Museum there is a tribute to that, our badge is in a display cabinet about the matinee shows.

I'm glad we had a bit of artistic freedom when we started. The record companies didn't know what punk was. They tried to manufacture punk bands with varying degrees of success, but punk was the real thing and came from a real area of people; that's why it worked. 999 were one of the first bands to do coloured vinyl; we had a 12"single we gave away with 'Separates' and even recorded a 7" version of 'Nasty Nasty' at 78rpm. We released 100 of them. That's become very valuable, not just with 999 fans but record collectors. There are only 100 different 45rpm records in the world recorded at 78rpm.

Vinyl was my favourite phase in music. I remember buying Buzzcocks' 'Spiral Scratch', it had a great black and white cover with a picture of the band. We played the Electric Circus in Manchester with the Buzzcocks and The Adverts. It was a great gig, a brilliant venue."



In July '77, Sounds remarked that 999 were "One of the best pop groups to emerge in years" and they "Might, conceivably, be bigger still than the Sex Pistols." The success of the single and a growing reputation on the live circuit saw 999 snapped up by United Artists, with 'Nasty Nasty' following in October - an undisputed punk classic.



1978 was the year the band were most visible in the UK, releasing 2 faultless albums, '999' (March) and 'Separates' (September), and 4 timeless punk singles - 'Emergency', 'Me & My Desire', 'Feelin' Alright With The Crew', and 'Homicide'.
At the BBC, 999 recorded a John Peel session in October and appeared on the Old Grey Whistle Test in December with 'Homicide' and 'Let's Face It'.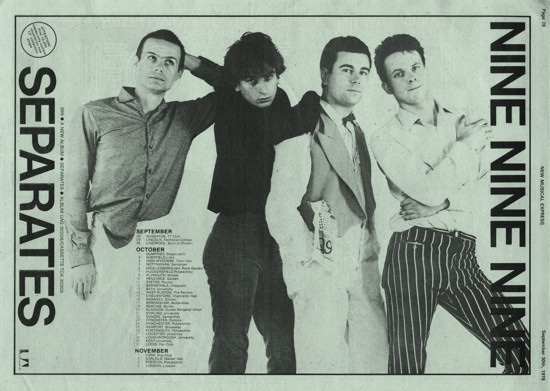 Nick: "Andy Arthurs had produced 'I'm Alive' so we recorded the 1st album, '999', with him at TW Studios, Fulham. Martin Rushent was coming on the scene working with bands at Albion Music and having a large amount of success. Our album wasn't developing in the way we'd hoped so we teamed up with Martin. We'd recorded most of it with Andy, but we finished it off. I went down to Olympic Studios in Barnes and remixed it with Martin and did a bit more work on it. It got a more lively, louder mix; he saved it in a way.

We'd formed a relationship with him so he went on to record 'Separates', which we also did at TW Studios. It was a small studio, but it had a good engineer called Alan Winstanley.

There was a launderette above it and I remember soap suds coming down the walls and starting to foam up in the corner! It was a rough place but had a good atmosphere. We were pleased with the results of those two albums.


I'd been writing 'Homicide' but it was waffley with loads of chords in it - it wasn't working. We needed another track to finish off 'Separates' so I re-wrote 'Homicide' in its present form the night before. We went down to the studio, I ran through it with the band once, they switched the record tape on and we did it there and then. One take and that was it. Martin said "I don't think you'll do better than that". It's got a good menacing feel to it.


Management were in such a hurry to get 'Separates' out they had to design a cover with no song titles on it. At the time you just had to get the records out. We were on tour and always getting pressured to do them, sometimes between heavy bouts of touring."


The debut album reached #53 in the Charts while the single 'Homicide' - 999's signature song - reached #40 in the UK Chart in the face of BBC paranoia.
Nick:

"They were putting everything under a microscope. On the John Peel Session they said will you sing "I believe it's Homicide" rather than "I believe in Homicide". Of course we didn't do it. So the BBC said they wouldn't play us and banned the single. They said "you can't write a record about murdering people." But they were showing Kojak - death in the Bronx - every week!"
999 departed United Artists in the summer of '79.
Nick:

"The albums had sold what they were going to sell. UA weren't interested in pushing it so we renegotiated to get out of the contract. We got offered recording contracts in America 'cos of our success there, like Polydor and Polygram. Andrew Lauder at UA was good, he understood it. We worked closely with him on artwork and in bringing in the people we wanted. Andrew went on to form Radar Records and we did a single for him, 'Found Out Too Late' (#69 hit, October '79). We were going to do an album for him, but it didn't work out."


After the brief stop-off at Radar, 999 signed with Polydor in late 1979. 'The Biggest Prize In Sport' followed in January 1980 hitting #177 on the US Billboard Album Chart. It was the 2nd American album for 999, 'High Energy Plan' (a reworking of 'Separates') had been put out the previous year by PVC/Radar.


The close bond between band and fans has been central to 999's longevity, coming to the rescue on occasion; take Ed Case (aka Paul Edwards), who stepped in and drummed on the single 'Found Out Too Late', the album 'The Biggest Prize In Sport', and filled in live both in Europe and the US.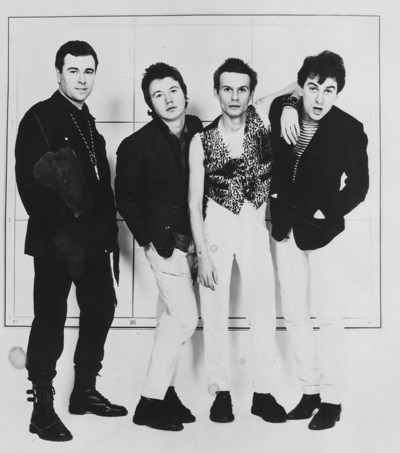 Nick: "Pablo broke his arm in '78, two days before we were doing a show at the SO36 Club in Berlin. Ed was part of our following, the Southall Crew. We went to the rehearsal and he knew all the songs note perfect. He was very young, about 17. He was fantastic and got a standing ovation. He was a brilliant drummer. From that, Ed then went on to play with Hazel O'Connor, and then worked at the Victoria Theatre playing the drummer in Buddy The Musical. Ed didn't know what to do and he ended up doing very well just because he helped us out. It was great what 999 were able to do for him. Gave him an opportunity. "


(Right: Nick, Ed Case, Jon Watson, Guy Days)
When the chance to take on America came, the band took it. It would prove exciting, eventful and rewarding in equal measure.
Nick:

"At the time people would say we'd sold out going to America. You can't be insular, we jumped at the opportunity to go to Japan, Brazil, Argentina... it's been incredible. When we started off in the US, there were bands out there like The Police, Ultravox, and XTC. We went out in vans and toured all over; we'd do 56 shows on the trot. We built up a following and ended up selling out big venues like Santa Monica Civic Centre. A lot of bands out there liked us; we played with The CIrcle Jerks, The Dickies, Black Flag, and Social Distortion and got adopted by the Skateboard crowd; it was a really good time for us.


The great thing that did happen was Slam Dancing! We got slagged off by the Los Angeles Times. It was the mosh pit really, with a bit of stage diving and running about! The LA Times came down and said you don't want to let your children go to this terrible thing, "that kid's got a bloody face, another's injured". Unfortunately, two weeks later, some people who were at our concert attacked a chauffeur on Sunset Strip. We were accused of inciting riots, but you can't be responsible for somebody else's actions. Then The Sun ran it in England. They wanted it all kicking off like with Johnny Rotten, the "Filth and the Fury", with everyone hating punks."


The hysterical Sun screamed in July 1980, "Punk rockers have launched a new, frightening craze... Slam Dancing has become all the rage in California since it was introduced by a raucous British group called 999."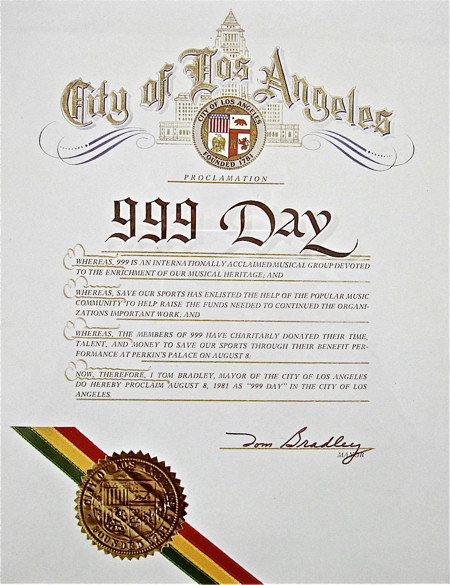 Nick: "After the LA Times trouble, we went to Soho Square in London with The Sun. We had no problem giving an interview to set the matter straight. The photographer said, "Can you run into somebody and start slam dancing? Be controversial so we can take pictures." We said no, we'll talk about the music. We don't turn it on like that. Yes, we do play very fast on stage; people jump on stage and enjoy themselves. We're about sport, people having a good time and letting off a bit of steam. Most of our fans are nice people! We were on page 1 and 3 of The Sun. It didn't do our career any harm at all actually! We just got on with it. When we wouldn't perform like monkeys for them, they lost interest. If we'd gone out and lay on a street in front of a taxi with blood all over us, they would had said "look at this!" That wasn't the example we wanted to set.

At the Whisky a Go Go we'd do three nights in a row, twice a day. I remember seeing a huge 999 billboard in LA next to Cher! We had our live album out, 'The Biggest Tour In Sport' (November 1980 - Polydor USA) which sold a lot of copies in the US.

We did a charity concert at Perkin's Palace in Los Angeles to raise money to keep the schools sports facilities open during summer holidays and keep kids off the streets. It was a way to pay them back for the support they'd given us. The first black mayor of LA, Tom Bradley, heard about this and came to the concert. He told us "you're only a small thing, not one of the movie stars like Cary Grant, but you've still come out and done this and raised this money. I'm going to give you a 999 Day and make you members of the City of Los Angeles."

I have on my wall a certificate headed "999 Day" that says: "999 have charitably donated their time, talent and money to Save Our Sports. I, Tom Bradley, Mayor of Los Angeles do hereby proclaim August 8 1981 as "999 Day" in the city of Los Angeles." That means more to me than a gold record.

We played with The Professionals in America, they supported us for a couple of gigs then someone committed suicide by driving into their car, so they had to pull out of the tour. I remember around that time Guy and I bumped into Steve Jones in New York. He had this guitar, it was a brilliant SG, and he offered it to Guy for $100. Guy gave him the money there and then. Later we saw The Great Rock 'N' Roll Swindle and he was playing the same guitar on a boat in Brazil & he threw it in the water! It played perfectly! Unfortunately it was nicked at Rebellion. It's only equipment. It's more important the band is alright and keeps going."


999's hard work Stateside was rewarded when 'Concrete' (April 1981), gave the band a further Billboard Album Chart success, hitting #192. It was an album that would spawn 2 U.K. chart singles, the spaghetti western soaked 'Obsessed' (#71) and a cover of Sam The Sham & The Pharaohs's 1966 hit 'Lil Red Riding Hood' (#59). Now on Albion Records - their manager's company - 999 appeared reinvigorated.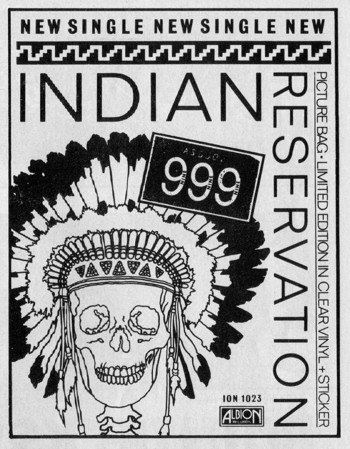 Nick:

"Joey Ramone liked 'Obsessed'. It was originally called 'Sex'. We used the old Sgt. Pepper 4 track machine; Vic Maille, the producer had it and said we could use the echo on it. Guy really got his head around it and it worked. 'Lil Red Riding Hood' was my favourite song at school. My first ever band when I was 15 years old was called The Pentagon and I did it with them."



'Concrete' got the thumbs up in Sounds: "This is an album choc full of skilfully hewn rock. And what's more important, it's a lot of fun. " Sounds also reported on 999's Lyceum show in London in May. "Live, they reign supreme. Caught up in the excitement of the show it's difficult to remember that despite fine albums, they haven't yet cracked it here." Nick Cash added, "This is just about the biggest crowd we've played to here... things just seem to be getting bigger for 999 all the time."



A final U.K. hit came in November as 'Indian Reservation' reached #51, with the magnificent June 1982 single 'Wild Sun' - another western flavoured affair - failing to get the acclaim it deserved. No matter, it was loved by Joe Strummer.



The biggest obstacle to progress now came courtesy of the winds of change blowing through the U.K. as punk fell out of favour with a snobbish music press desperate to find the next new thing.





Nick:

"The New Romantics came on the scene in the 80s and punk became passé. We were getting a bit worried so we tried another album for Albion, '13th Floor Madness' (1983), to change our direction, which wasn't really a good idea. It was getting very difficult, we couldn't get gigs, audiences were dwindling, but we still kept going. We'd signed up for these record deals with United Artists and Albion to make too many records.

Punk was waning and we were tied into contracts we had to wait to dissipate. Then we did 'Face To Face' (1985) on our own Labritain label. Jon Watson left in '86 to form his own band called Rubber Trixie."



Danny Palmer - a lifelong friend of Pablo's - filled Jon's shoes as the band ignored their brief deviation on record to continue with electrifying punk shows, captured on the live LP 'Lust Power and Money' (1987 - ABC Records). After a short hiatus, 999 regrouped for a spectacular return to form on the 1993 album 'You Us It' (Anagram Records), with Arturo Bassick picking up the bass and remaining an integral part of 999 until this day. What's more, punk was undergoing a resurgence and the fans were back.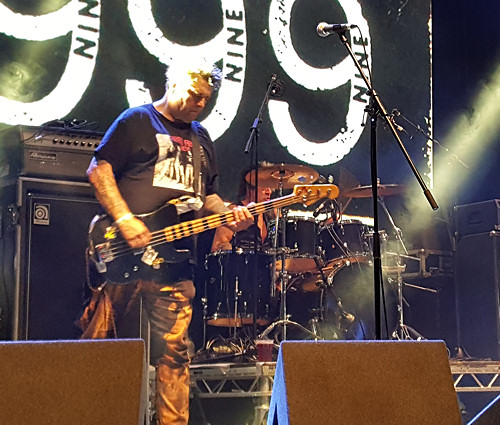 Nick:

"Arturo had come back on the scene. He was in The Lurkers and we had the same management, Dai Davies & Derek Savage, who had also managed Arturo's band Pinpoint. Pinpoint had a good single called Richmond. They were on Albion Records and had also been produced by Martin Rushent. We'd played with them at a few places. Arturo is very energetic; he's well known in England and Europe and he enjoys playing with 999. It was a good thing for him.


(Left: Arturo on 999 duty with Stuart Meadows on drums at Rebellion 2016)

People who were a bit younger than the original crowd came along and other bands started coming back into it so it took off again. It has a worldwide following. We can go to Brazil and Argentina and play to a similar kind of audience that we play to in London. It's extraordinary. It's the culture of the thing and the common bond of the music.

We wanted 'You Us It' to be lively with good strong songs - not too long - that people would like. We recorded it at Alaska Studios. 'Black Flowers For The Bride' is great for us, we usually open the set with it and it's become a big favourite. Other bands have recorded it. It was nice to come up with new songs that have lasted, not just 'Homicide' and so on! I don't think the guy who put out the next album 'Takeover' (1998 - Get Back Records) realised what he had, which was a shame. But John Esplen at Overground has done quite well with his releases."



Check out the excellent Overground Records demo collections 'Slam!' and 'Outburst', and the final 999 album to-date, 'Death In Soho' (2007), another explosive punk document littered with gems such as 'Gimme The World', 'Last Breath' and 'Stealing Beauty'.





40 years of graft hasn't dampened 999's love of the music and the connection with their fiercely loyal following who, in return, have rewarded the band with unique moments.



Nick:

"Just recently in Prague, this guy told me he was put in prison for listening to 'Nasty Nasty'. When the communist regime existed, punk rock was considered too controversial and politically dangerous. Someone reported him to the Police. They confiscated the record and put him in prison. He told me, "It's because we wanted these things from the West it was possible for the wall to come down. I wouldn't be a free man now."


We used to go to Berlin before the iron curtain was down . We used to get searched & it was difficult, it was a long journey but I loved the value of it. So, all these years later when someone tells you you've helped them become a free person, that's fantastic.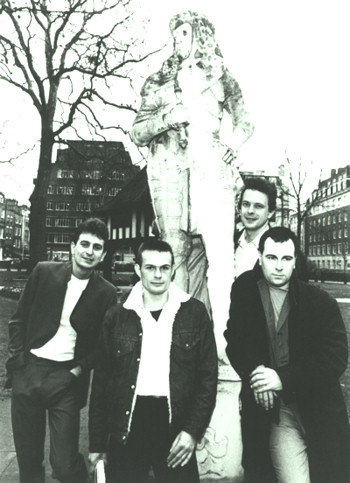 In America now it's very hard for young bands to go there. In the UK & Europe, American bands can come & go quite freely, but going to the US costs so much money to hire lawyers for your work permit. We were lucky, we managed to get round it. It was a big cultural exchange for 999 and for people who came to see us. Green Day wouldn't have existed without punk rock & look what they do for the US economy and the young people. If you earn under a certain amount of money they should let you in as an artist, otherwise you shut your boarders and don't interact with the rest of the world.



(Right: Late 70s: Guy Days, Jon Watson, Pablo Labritain, Nick Cash)




At a gig in Dusseldorf in the late 70s, there were some young kids outside aged 12-13 who loved the music. I knew they wouldn't be allowed in so I got my guitar, put this little amplifier across my shoulder, went outside and played a concert for them on the street. They loved it, went mad and I did an encore. Shoot forward many years to 1991 and Die Toten Hosen's album 'Learning English'. Singer Campino was one of those kids! It changed his life. Die Toten Hosen became the number one band in Germany. He wanted to record 'Nasty Nasty' as a tribute and put it on the album. 'Learning English' went gold, it was a brilliant album. It brought punk classics to a new audience in Germany and as a result we are touring there to this day. It was a great idea and that's how I got to sing with Johnny Thunders.


We did The Heartbreakers' 'Born To Lose' in London with Die Toten Hosen and Johnny – the last ever record Thunders made. It was a real honour. But the money they gave Johnny for doing the record, he used in America to buy drugs. I think the dealers knew he had money from that record on him. He may have been murdered to get the money 'cos it wasn't found on him.


Over the years we played with The Heartbreakers quite a lot. When they first came over to London we played one of the first ever gigs they did at Kingston Polytechnic, and later we played the Music Machine with them and some others. We also played with them in New York at the Peppermint Lounge. One night Johnny Thunders was doing his acoustic set with Walter Lure and he'd taken too much drugs. His microphone stand was slipping down, he couldn't get it to stay up, and it was a bit of a shambles. The audience in New York knew what was going on & were shouting "get it together you junkie" which wasn't too helpful but did have a ring of truth about it because you can't be too out of it when you play, let's face it. It's very sad but these things happen."



It may be 40 years on, but 999 are still out there doing it, still delivering and still enjoying the here and now. Pablo occasionally takes a break, with his drum duties ably filled by Stuart Meadows.





Nick:

"We do great things like the Rebellion Festival. Promoters come from all over the world and see the band there. We are the only band to have done every single Rebellion. I prefer our early evening slot to later on. They like us to kick it off with a bang, get everybody in there.

I think it then emptied a bit when Bob Geldof was there (2015)! It's not the only time he has upset the audience, I remember playing with The Boomtown Rats in the 70s at the Music Machine in London. He did the same thing and someone didn't like it and got on stage and punched him in the mouth! We were in Vienna once, a place we were really popular, and The Boomtown Rats were doing a show nearby. Bob could see all the people coming to our show. He said "Nick, why are 999 so big in Vienna?" I replied "Bob, why are The Boomtown Rats so big in England?!" He didn't like it. I was called a couple of names!

We've recently worked with Cleopatra Records in the US to release some 999 US radio recordings (4 CD Box set, 'Bay Area Homicide'). College radio played the music, that's how punk and new wave broke over there. We'd play gigs at the universities and they would play our music.

999 have only ever cancelled two gigs because of illness. In 40 years! We're lucky to go on, we've still got a following and we are still alive. Why should we stop?"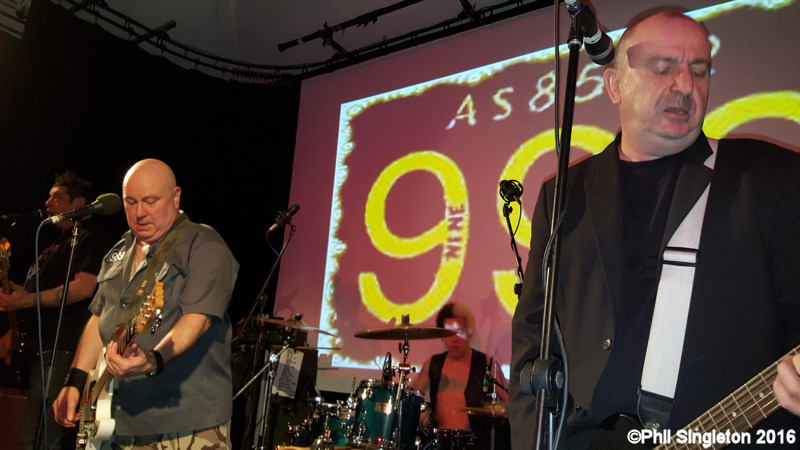 (An abridged version of this feature appeared in Vive Le Rock #32 - now sold out)
Written by Phil Singleton

999 Punk band Full story as told by Nick Cash